This week´s episode of SNL (Saturday Night Live!) was hosted by comedian Dave Chapelle with the musical guest rock band Foo Fighters. We have decided to bring you highlights from the latest SNL episode!
#1 Cold Openning SNL
The beginning of the show had the thematically same opening as the rest of the episodes of this season. Biden Victory Cold Open – as they called it, was focused on Election day? More like "Election Week" results.
CNN Moderater Wolf Blitzer played by Beck Bennett says:
"I know I am supposed to be a neutral news anchor but goddamn it that feels good!"
Sketch then continued with Jim Carrey as President Biden and his impression were again spot on.
"I never felt so alive, which is ironic ´cause I am not so alive!"
Maya Rudpolh portrayed Kamala Harris on SNL and she "didn´t give a funt," if you are scared of her.
SNL brought all the big with cameo from Alec Baldwin in his portrayal of President Trump.
"Stop the count! Stop the count!
What is that? (Assistent whispers to his ear)
Oh, I am behind?!
Then count all votes, all to last vote!"
Sketch has ended with a very "subtle" victory dance. We recommend you to watch it.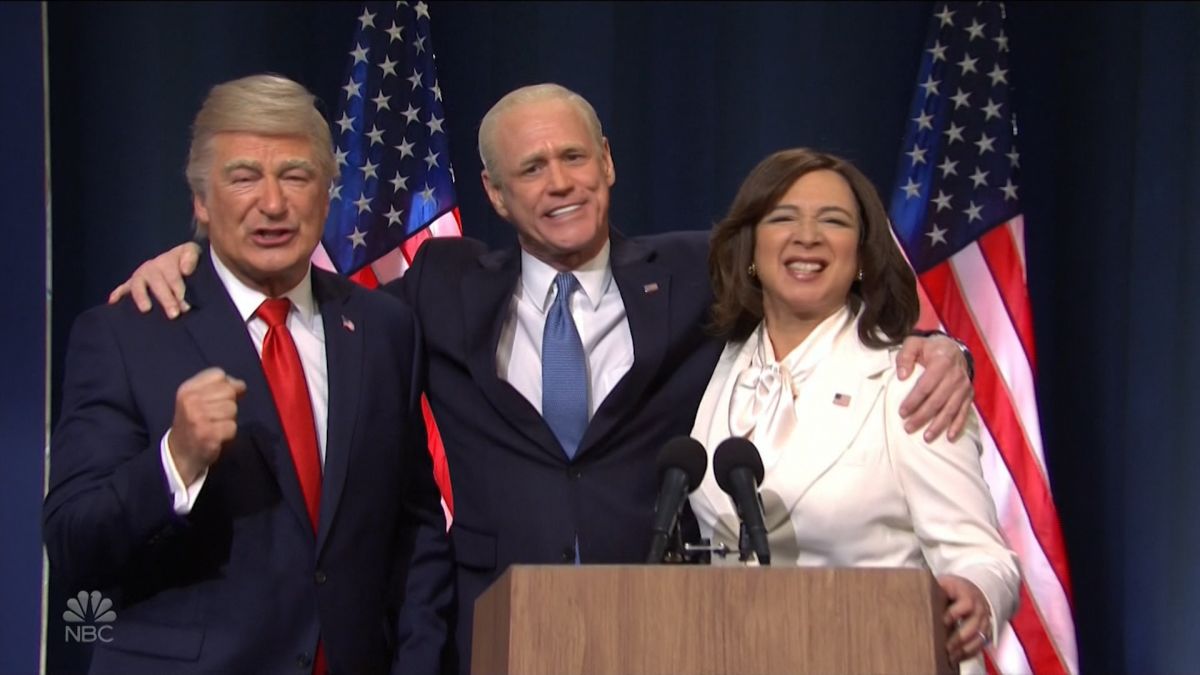 #2 Monologue SNL
As it is a tradition, another segment of SNL was Opening Monologue. This was a very well written and even better-performed piece of art! Dave Chapelle has started with a deeply touching story of his great grandfather. I will tell you, you have never seen a smoother transition from the inspiring serious story to what Chapelle does the best – pure comedy.
Chappelle manages to drift through heavy topics with enough respect to make them sound smart and funny instead, of offending and dumb. True comedy greatness could be witnessed on screens last night. You can watch his 16-minute long monologue below:
It seems like one part has outstood the others. When Chappelle says
"What kind of man makes sure he's OK while his friends fight for their lives and die? A white man. I don't mean to put this on the whites, but I've been Black a long time — I've noticed a pattern." Twitter really took it!
#3 Weekend Update
Weekend Update with Colin Jost and Michael Che was very hot this week. You can tell that these two have been looking forward to reporting about President Trump's defeat. Well tailored punchlines and even a cameo from Rudy Giuliani portrayed by McKinnon.
"Trump has reportedly said that allies that he will have to be drag out of the White House kicking and screaming"
Good!" (takes a sip)
On the latest episode of SNL were a lot of sketches including DC Morning, Uncle Ben or Hailstorm acts with Kate McKinnon in the lead role. Musical performances of Times Like These and Shame Shame songs from Foo Fighers repertoar.
There was a lot of character breaking during the whole show, but who can blame them. We get it.